1、国务院总理李克强表示,中国中央政府的债务率还比较低,中国实施积极的财政政策仍然可以加力。此外,中国的储蓄率比较高,我们推进金融改革、盘活存量资金,顺畅金融对实体经济的传导机制也有空间,所以中国政策的"工具箱"有应对更大挑战的准备和可能。
Premier Li Keqiang said that the debt ratio of Chinese central government is still relatively low, China can still put more effort on the implementation of proactive fiscal policy. In addition, China's savings rate is relatively high, there is also space for us to promote financial reform, revitalize the stock funds, and smooth the conduction mechanisms of finance on the real economy, so China's policy "toolbox" is ready and able to deal with greater challenges.
2、统计局发布工业企业财务数据显示,1-5月,全国规模以上工业企业实现利润总额同比增长6.4%,增速比1-4月份回落0.1个百分点。5月,规模以上工业企业实现利润总额同比增长3.7%,增速比4月份回落0.5个百分点。总体看,5月工业企业利润增速虽然小幅回落,但工业企业效益继续呈现积极变化。
National Bureau of Statistics of the People's Republic of China released financial data industrial enterprises, which showed that from January to May, the national industrial enterprises above the designated size realized a total profit increase of 6.4% year-on-year, the growth rate declined 0.1 percentage points than that from January to April. In May, industrial enterprises above the designated size realized a total profit increase of 3.7% year-on-year, the growth rate declined 0.5 percentage points than April. Overall, the profit increase of industrial enterprises declined slightly in May, but the profitability of industrial enterprises continued to show positive changes.
3、保监会副主席周延礼谈险资举牌万科时表示,一般而言,险资举牌是为了配置资产需要,但保监会对举牌要求是,做好信息披露,说明资金来向等,应取得社会一致认可和理解,我认为这是正常的资本市场活动,这种情况在西方其实很多。
When talking about insurance funds placarding Vanke, Vice-Chairman Zhou Yanli of China Insurance Regulatory Commission (CIRC) said that, in general, the insurance funds placarding is for the needs of asset allocation, but the CIRC requirements for placards are, to make sure of information disclosure, to explain whereabouts of the funds and so on, it should get consensus social recognition and understanding, I think this is a normal capital market activity, in fact, there are many such cases in the West.
4、财政部公布数据显示,5月,中央政府融资2329亿元。中央政府一季度债务余额10.7万亿元。1-5月,国有企业营业总收入171598.4亿元,同比下降0.6%;国有企业利润总额8373.9亿元,同比下降9.6%。
Ministry of Finance of the People's Republic of China released data which shows that, in May, the central government financing was 232.9 billion yuan. The central government debt balance of the first quarter was 10.7 trillion yuan. From January to May, the total revenue of state-owned enterprises was 17.15984 trillion yuan, a year-on-year decrease of 0.6%; the total profit of state-owned enterprises was 837.39 billion yuan, a year-on-year decrease of 9.6%.
5、经济参考报消息,"品质革命"成为今年消费政策的关键词,服务消费将获重点扶持。在提升消费品品质,改善消费环境,扶持新消费,以及引导境外消费回流等方面,中央部门和地方相继打出全方位、多角度的系列政策"组合拳",下半年将进入促消费政策的密集落地期。
ECONOMIC INFORMATION DAILY news, "quality revolution" has become this year's consumer policy keyword, consumption of services will be the focus of the major supports. In the aspects of promoting the quality of consumer goods, improving the consumption environment, supporting new types of consumption and guiding consumption abroad reflux, etc., the central and local authorities have been played a series of all-round and multi-angle policy "combination blows," the second half of this year will be a period with intensive pro-consumption policies touching down.
6、外管局发布国际货物和服务贸易数据显示,5月,我国国际收支口径的国际货物和服务贸易收入12712亿元,支出10822亿元,顺差1890亿元。其中,货物贸易顺差3140亿元,服务贸易逆差1250亿元。
State Administration of Foreign Exchange published data of international trade in goods and services showing that in May, according to China's international payment statistics, the earnings of China's international trade in goods and services was 1.2712 trillion yuan, the expenditure was 1.0822 trillion yuan, and the trade surplus was 189 billion yuan. Among them, the trade surplus of goods was 314 billion yuan and the trade deficit of services was 125 billion yuan.
7、广发证券称,短期来看,A股市场如果因为"退欧"出现暴跌或者暴涨,仅仅是投资者情绪的过度宣泄。长期来看,包括A股在内的全球股市可能呈现"慢熊"状态。"慢熊"之中会有"熊市反弹",但需要以"看长做短"的视角去等待。
GF Securities said that, in short term, if A-share market slumps or booms because of the "retreat Europe," it will just be an over-catharsis of investor sentiment. In the long run, the global stock market including the A-share stock market may show "Slow Bear" state. There will be "bear market rallies" during "Slow Bear", but one should wait with a "buy in short-wing when there's a long-term rise" perspective.
8、6月27日,央行在公开市场开展7天期2700亿元逆回购操作,操作量创近三个月新高,中标利率维持在2.25%。当日,到期逆回购量为1700亿元,实现净投放1000亿元。另外,本周逆回购到期量高达6600亿元。
On June 27th, THE PEOPLE'S BANK OF CHINA started carrying out a seven-day reverse repo operation of 270 billion yuan in the open market, the operation amount has reached a new high for the last three months, the bid rate remains at 2.25%. On that day, the amount of expired reverse repo was 170 billion yuan, achieving a net funding of 100 billion yuan. In addition, the amount of reverse repurchase to expire within this week is up to 660 billion yuan.
9、中证网从地方发改委部门获悉,《长江经济带发展规划纲要》已于近期下发到沿江11个省市。综合各方消息来看,《纲要》对于长江经济带发展有一些新提法,并设立了2020和2030年两个战略目标,负面清单制度和生态补偿将可能受到更多重视。
CHINA SECURITIES JOURNAL learned from the local Development and Reform Commission departments, "Yangtze River Economic Belt Development Plan Outline" was recently issued to 11 provinces and cities along the Yangtze River. Messages from all sides, the "Outline" for the Yangtze River Economic Belt has some new ideas, and sets up two strategic objectives for 2020 and 2030, and more attention is likely to be paid to the negative list system and ecological compensation.
10、新华社从中国航天科技集团公司获悉,中国重型运载火箭已完成深化论证,如果相关工作进展顺利,15年内有望实现首飞。国金证券认为,运载火箭、卫星应用、空间宽带互联网三大工程将是中国航天工业未来发展的重点,市场规模在"十三五"末或达8000亿元以上。
Xinhua News Agency learned from China Aerospace Science and Technology Corporation that the deepened argument of Chinese heavy launch vehicle has completed, if the relevant work is progressing smoothly, it is expected to achieve its first flight within 15 years. Sinolink Securities believes that the three projects of the launch vehicle, satellite applications and space broadband Internet will be the focus of future development of China's aerospace industry, market size in the "Thirteenth Five-Year Plan" period may reach over 800 billion yuan.
11、欢迎大家点击公众号左下方对话框语音或文字回复"财经早餐",不同的位置,相同的味道!不是所有的早餐都叫财经早餐!
You are welcome to click the dialog box in the lower left part of the official account and use voice or text to reply "Femorning". Different position, same experience! For a truly authentic taste, choose Femorning, the only reliable and genuine financial breakfast.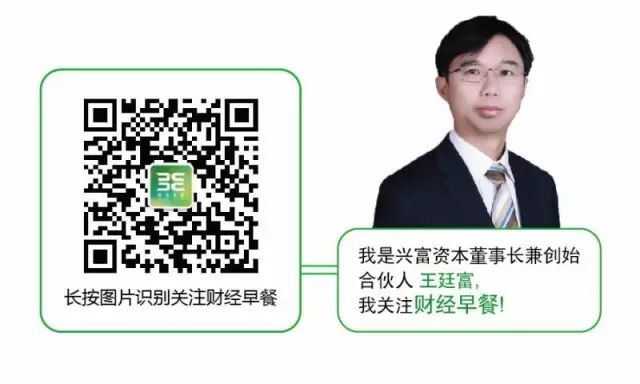 财经早餐(微信号:Femorning):每天早晨,最新鲜、最全面的财经资讯尽在财经早餐!
亲,点击下方的"阅读原文",下载APP就可以收看今日时时财经速递了!